Microsoft has apparently removed Nokia's logo from the Lumia 735 before its US launch
30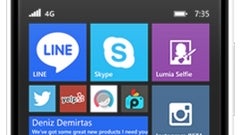 Announced back in September as a Nokia-branded device, the
Lumia 735
has yet to be launched in the US. We heard that the handset could be released via
both Verizon
and Sprint
, though for now there's nothing official about this.
While Microsoft
removed the Lumia 735 from its US website
, it looks like the smartphone will be launched Stateside after all. Earlier today, an interesting image was posted over at the official Lumia US Twitter account. Said image shows a previously unannounced Microsoft Lumia handset for Verizon Wireless. Upon closer inspection, we realized that the device looked exactly like the Lumia 735 (earpiece, front-facing camera, side buttons, rear camera, rear speaker - everything is a perfect match). Of course, instead of Nokia's logo, we now have Microsoft and Verizon logos on the front and back of the handset.
The tweet showing the Microsoft Lumia 735 wasn't really about the smartphone, but about a Windows app called Spectrum Analyzer. Even so, the tweet was quickly removed, but we saved a couple of screenshots. You can see them below, alongside an image of the Nokia-branded Lumia 735.
We assume the Lumia 735 will be announced by Verizon in the near future. The handset will feature LTE, in addition to stuff like a 4.7-inch 720p display, a 5 MP front-facing camera, 6.7 MP Carl Zeiss rear camera, Snapdragon 400 processor, and 1 GB of RAM. Interested?
P.S.: for the record,
the Nokia-branded Lumia 735 can be bought in Europe
.
source:
Lumia US
(Twitter)