Nokia Lumia 735 coming to Sprint, FCC data reveals
10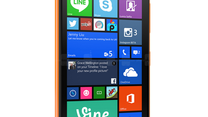 Remember the last time a Nokia phone was available on Sprint? Neither do we. This Microsoft Mobile smartphone, however, appears to be Sprint-bound. It is listed at the FCC under the model name Nokia RM-1078 and supports the necessary frequencies to work on the carrier's network. Also, there's a semi-obfuscated Sprint logo on its FCC label, which pretty much spoils the suspense.
So yeah, the Nokia RM-1078 is a GSM/CDMA device with Bluetooth, GPS, and Wi-Fi support. There's also compatibility with LTE bands 25, 26, and 41, all of which are in use by Sprint and its Spark network. Behind the phone's removable back cover are situated its battery, microSD card slot, and Micro SIM card slot. Digging further down the papers we discovered the phone's dimensions. The Nokia RM-1078 is 68.5 millimeters wide and 134.7 millimeters tall. Adding this data to the pile of evidence makes it clear that we're dealing with the
Nokia Lumia 735
.
The Nokia Lumia 735, running Windows Phone 8.1, was announced at IFA 2014 as a mid-range phone built with taking selfies in mind. It sports a 5-megapixel front-facing camera with a wide-angle lens, while the pre-loaded Selfie app makes it easy to enhance your pictures in a number of ways. You also get a 4.7-inch ClearBlack OLED display with 720 by 1280 pixels of resolution, a Snapdragon 400 SoC, 1GB of RAM, and 8GB of internal storage.
Sprint has not posted any news about launching the Nokia Lumia 735 on its network, but looking at the evidence, an announcement might be nearing. Until then, feel free to check out our
Nokia Lumia 735 hands-on photos and video
.