Microsoft gives CNN free Surface Pro 3 tablets, reporters use them as iPad stands
77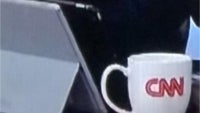 Microsoft recently entered a partnership with CNN, which dictated that the network's presenters will be given some free Surface Pro 3 tablets to use on live TV and, in turn, serve as advertisement for Redmond's "
laptop killer
". Unfortunately, the campaign effort may have backfired badly, as today, Twitter exploded with screenshots from the CNN elections night live broadcast, which shows that the presenters and journalists are either still using their iPads in hiding, or worse – using the Pro 3 slates as a kick-stand to support their iPads.
The Surface Pro 3 is Microsoft's attempt at creating a two-in-one device, which can serve both as a laptop and a tablet equally efficiently. As far as how successful it is – Redmond did say that it is
outselling its predecessors
– the original
Surface Pro
and
Pro 2
– though, we do not know exact numbers yet. From the looks of it, however, it seems that the adoption rate is slow, with the main concerns being that the device's keyboard needs to be purchased seperately (and it is already an expensive tablet to start with), and that it does not seem comfortable to work with in one's lap, even though Microsoft claims that it is just as comfortable as a conventional laptop; the company even came up with a word when addressing this issue – "lapability".
So, whether CNN management knew about its journalists secretly using their iPads is unknown, but one thing is for sure – it was a low blow for Microsoft. Sure, non-techies maybe didn't notice, but the tech-savvy community is having a laugh.