Microsoft files patent application for "Quiet Time" feature
22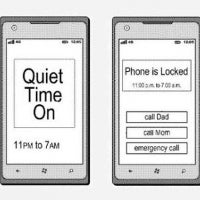 Microsoft has filed a patent application for a system that can be used to prevent a teenager's phone from making phone calls while behind the wheel of a moving car, or prevent audio from coming out of the speakers of a phone inside a movie theater. Called "Quiet Time," the feature could prevent phone calls from being made during certain times of the day, or while at certain locations.
Based on diagrams from the patent application, a block could be placed on a phone based on a certain time period. The example in one diagram shows a phone in "Quiet Time" from 11pm to 7am, while calls would be allowed only to Mom or Dad or to 911. "QuietTime" might also be implemented in houses of worship, movie theaters or businesses and those walking into such locations could find their phones' audio and communication features disabled while in the affected location. The feature would be disabled when a quieted device bumps with the main mobile device.
In another scenario, parents could set up the "Quiet Time" function before their child gets into the car and drives. One setting could lock the phone and prevent phone calls from being made or received and will unlock when the driver pulls over. A motion sensor would determine if the phone is in a moving vehicle. Calls to Mom or Dad or 911 only, would be allowed. Other options lock a teen driver's phone if the parents are not in the car while a more experienced teen driver might be allowed to use the phone using hands-free technology.
Microsoft filed this application with the USPTO in Q4 of 2012 which means we have no idea when this technology might actually be seen on a Windows Phone.
source:
USPTO
via
PatentBolt
,
WMPoweruser