Microsoft earned 3 times the revenue from Android than from Windows Phone 7 in Q2
37
According to Asymco analyst Horace Dediu, in the first quarter of 2011 Microsoft stunningly
brought in five times the revenue
with Android devices compared with the cash generated by Redmond's own Windows Phone 7 OS. For the second quarter, the ratio has dropped but at 3:1 is still an ironic situation.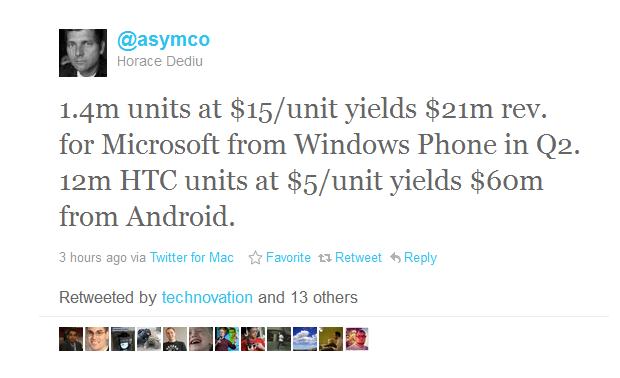 Asymco analyst Horace Dediu tweets that Microsoft earned 3 times the money from Andriod than from its own mobile OS in Q2
Dediu said in a tweet that for Q2, Microsoft received $21 million from royalties on
1.4 million Windows Phone 7 units sold
from which Microsoft received a $15 license fee on each phone. At the same time, the company brought in $60 million from the sale of
12 million HTC Android phones
from which it receives $5 in royalties for each unit sold. The analyst used Canalys' Windows Phone 7 sales estimates and HTC's own statement that it shipped 12.1 million handsets in Q2 (although it is not known how Dediu figured that they were all Android models).
While the amount of money involved isn't that important for a multi-billion dollar company like Microsoft, just the idea that the company's fortunes were improved more by a rival mobile OS than from the firm's own home grown software shows
just how inbred the whole mobile OS business has become
thanks to patents, royalties, licenses and lawsuits.
source:
Twitter
via
BGR