Microsoft drops Surface Pro price as new model starts shipping
4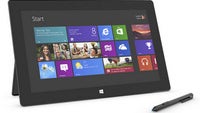 Even though the new
Microsoft Surface Pro 2
tablet is already available through the company's online store, its predecessor hasn't yet been pulled off the shelves. In fact, after a recent discount, one can grab the original Surface Pro at an even lower price than before. How much, you ask? Well, last year's
Microsoft Surface Pro
tablet, with 64GB of SSD storage, now starts at $699, which is $200 less than its introductory price. The 128GB model costs $100 extra. In comparison, the base Surface Pro 2 retails for $899.
And it is not like you don't get a decent Windows 8 Pro slate in exchange for your cash. For those who have forgotten, the Microsoft Surface Pro runs on a dual-core Intel Core i5-3317U processor clocked at 1700 MHz, backed by Intel HD Graphics 4000 and 4GB of RAM. That's
enough power to handle Counter Strike
, among other games and heavy apps.
Of course, if you demand the very best, you should go for a second-gen Microsoft Surface Pro tablet instead. If a $200 savings seems like a good deal, on the other hand, visit the company's online store via the link below.