See Counter Strike being played on a Microsoft Surface Pro tablet
49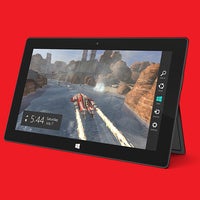 The
64GB Microsoft Surface Pro tablet has about 23GB of free space
– not much, yet enough to throw on several movies, a portion of your audio collection, and perhaps even a few quality games. Yup, with its pretty capable Core i5 processor and Intel 4000 graphics, the device apparently can handle many great titles, including some meant to be played on a proper PC, not on a tablet.
Here's for example Counter-Strike: Global Offensive running on a Microsoft Surface Pro tablet. And it is running at pretty decent frame rates, from what we can tell. Sure, playing a first-person shooter isn't comfortable without a mouse, but you can always plug one into the device's full-sized USB port, or even connect it wirelessly if it is of the Bluetooth kind.
So yeah, if you're looking for a tablet that can handle the kind of games you'd expect playing on a PC, the Microsoft Surface Pro might be worth checking out. Just keep in mind that the device doesn't come cheap, especially one you throw its Smart Cover into account.