Microsoft Surface first reviews recap: the reaction is a mixed bag
47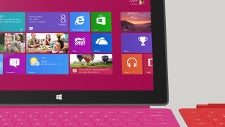 The
Microsoft Surface
reviews are out
. This is a monumental moment for Microsoft as the company is making a PC of its own for the first time in its decades of history.
It needs the positive reviews to get the attention of people, so does it get them? Well, not exactly. Most reviewers agree that the Surface is likeable, but not all would recommend it and even those who do, do so with a couple of words of caution. Summing the Microsoft Surface all up in one phrase would be
"it is different."
Here is the feeling we got about the tablet from reading all sources with their different perspectives: from the businessy Wall Street Journal, the techy AnandTech, the fun and concise Gizmodo to the gadget lovers from TheVerge.
First, everyone admits that
design is beautiful
and build quality is extremely sturdy on the Microsoft Surface. Also, get the type cover. Both the touch and type covers snap quick and easy, but with the tactile keys on the type one you can reach almost your regular typing speed.
Hardware
performance is mostly okay
, not stellar. The screen is a mixed bag - good for watching movies, but not so good for reading. The cameras are crap, but they are there.
In software,
Windows RT is misleading
with its extremely limited destkop mode, Microsoft didn't explain well what it really is. The Windows app store is a ghost town with no basic apps like Facebook or Twitter.
Finally, the
Surface can't replace your laptop
but comes the closest from all tablets. It's not all that comfortable for media consumption, but it's great for typing and for Office guys. Hit the slideshow below for all the juicy details, spicy metaphors and more conclusions.