Microsoft Surface RT tablet said to come below $399, Surface Pro starting at $500
33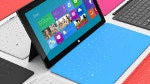 Sources from the supply chain have estimated the production price of the
Microsoft Surface RT
tablet with
free Office 2013 edition
to be in the $300-$400 realm, depending on the configuration, and concluded that the final starting price will be
below $399
.
This jibes with Steve Ballmer's comment the other day that the
Surface tablets will cost about what the current average range for PCs is
- $300-$800.
As for the Intel-based Surface Pro tablet that can run full-blown Windows 8 with legacy programs support, its bill of materials is climbing up $100-$200, depending on the version, and is hence likely to be sold in the $500-$700 price range. We should know the exact tag at the end of next month, when the official launches of the Windows 8 family is.