Microsoft Surface Pro has price and pre-order availability in Germany
21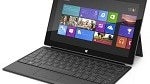 Microsoft's new
Surface RT
tablet has quite a splash on the market. By many accounts, sales seem to be going well. Those that are interested in the Surface tablet, but not interested in some of the limitations of the RT environment are waiting for the
Surface Pro
.
The Surface Pro runs the full Windows 8 operating system, so legacy applications can also run on the tablet. While that is one of the more visible differences from the Surface RT, the Pro also a higher resolution screen, a larger battery, more memory (4GB versus 2GB RAM), more storage (64GB, 128GB versus 32GB, 64GB), is a little thicker, and is about a half-pound heavier. The Pro also includes a stylus and is powered by an Intel Core i5 processor.
The release date has not been provided yet, nor has the price in most markets. German retailer Notebook.de is offering the Surface Pro for pre-order. The 128GB model is listed for €909 ($1,163 or £727) and the 64GB model is listed for €809 ($1,035 or £647). Those prices include Value Added Tax (VAT). The site shows delivery in 3-4 weeks. That time-line appears optimistic as most expectations are that the Surface Pro will be available early next year. It would be pretty cool if the Pro made a holiday debut though.
For those that live where there is no VAT (like the US), the prices listed on Notebook.de show the 128GB model for €763 ($976, £610), the 64GB model for €679 ($868, £543). While pricing in the US has not been announced, these prices are probably not too far from what we may see once the Surface Pro goes on sale.
Is the Surface Pro the one you have been waiting for?
sources:
Notebook.de
via
Redmond Pie
and
Microsoft News