Microsoft Lumia 950: The first 48-hours
42
This article may contain personal views and opinion from the author.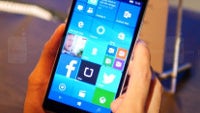 Starting today, consumers can go to their local AT&T retail store and purchase the Microsoft Lumia 950 – powered by Windows 10. It's the beginning of a journey for the Redmond based company, which has been investing a lot of time, resources, and development in its revamped platform. The Microsoft folks sent us a special package a few days ago, containing the new smartphone in question along with some extra goodies.
Having it for a couple days at this point, it's not enough time to really get acquainted with all the ins and outs of what the phone has to offer. So instead, I'm just going to detail some of the things that I've come across in my short time using it, which I feel to be noteworthy – whether it's good or bad even. I'm familiar with Windows Phone, but in all fairness, I haven't made Windows Phone my daily driver since the HTC Arrive/Pro 7.
Much has changed since that handset, as the platform evolved to its most current iteration in Windows 10. The Microsoft Lumia 950 is one of two brand new handsets running the new platform, which hopes to reinvigorate interest in the platform. At the heart of it all, the identity of Windows is intact with this updated OS, so it's a familiar scene for us catching up with the Lumia 950 once again. In my short time, here are some of the things I've come to realize:
Continuum is the platform's coolest feature

: Finally, we have the power of a PC in the palm of our hands with the Lumia 950. Using Continuum, we can experience a very desktop-like Windows 10 experience using the phone with the Display Dock. However, it seems that only the native apps, as well as those from Microsoft's portfolio (Word, Excel, etc), are compatible using the feature. The vast majority of third party apps have not been optimized to support it.
You can use Continuum wirelessly, without the dock

: We really thought that you needed the Display Dock to experience Continuum. Interestingly, though, we can get access to Continuum wirelessly by connecting the Lumia 950 to a Miracast enabled device (a dongle connected to our television in our case). Sure, there might be a little bit of latency issues, but it's still usable.
Better apps ecosystem

: Microsoft has been doing a better job of getting all the apps we actually use, so we're happy how it's competing against other mobile platforms. Although it would be unheard of for it to lack apps like Facebook or Twitter, but we do appreciate how the platform is greeted with other apps that would have otherwise been non-existent even a couple years ago – such as Swarm for example.
If you're invested in Google's ecosystem, you can forget about it

: Unfortunately, the Windows Store is sorely lacking the many Google Apps we're familiar with on Android or iOS. Yes, there's the official Google app, but you're pretty much out of luck if you happen to use Google Voice or Google+. They're just not there.
Apps just have a habit of refreshing constantly

: Who knows why, but the platform still has some issues when it comes to refreshing apps whenever we exit out of them. Pandora is a perfect example, as it never seems capable of staying in the same position in our station listing whenever we happen to exit the app and come back to it. Of course, it's even more maddening having to constantly scroll through the listing whenever we come back to the app.
Windows Hello is pretty accurate

: While it lacks a fingerprint sensor, the Lumia 950 has a killer feature in Windows Hello, which utilizes an iris scan to verify your identity to unlock the phone. After getting our eyes scanned a few times to improve its accuracy, it becomes pretty routine for Windows Hello to recognize us and unlock the phones. Even in dim conditions, it works rather well.