Microsoft Lumia 430 is announced as the most affordable Lumia ever, to cost $70
17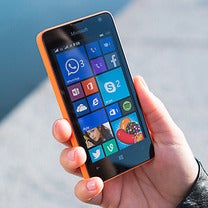 There's a new Lumia smartphone in town and it is the most affordable member of the series to date. Microsoft will be launching the just-announced Lumia 430 for only $70 before taxes and subsidies – a move meant to bring popular apps and Microsoft's services to a broader audience.
Now, you're probably thinking that a $70 smartphone doesn't really have much to shine with in terms of specs. And you'd be right if you do as the Microsoft Lumia 430 has "low-end" written all over it. The smartphone packs a 4-inch display with 480 by 800 pixels of resolution, a dual-core Snapdragon 200 SoC running at up to 1.2GHz, 1GB of RAM, and 8GB of expandable storage. The main, fixed-focus camera has just 2MP of resolution, while the front-facing cam shoots 640 by 480-pixel images. The dual SIM functionality is welcome as it enables one to use two carriers' services on one device. All in all, a modest hardware configuration, but actually decent given the phone's price point. Windows Phone is known for running well even on low-end devices, and the 1GB of RAM should suffice for all the apps available on the Windows Phone Marketplace.
Speaking of software, the Microsoft Lumia 430 will ship with Windows Phone 8.1 along with the
Denim update
. Later on, the smartphone will be treated to an update to
Windows 10 for Phones
. Users of the Lumia 430 will get to enjoy Microsoft's array of pre-loaded apps, including Skype for IMs, voice chats, and video calls, Microsoft Office for handling documents on the go, and OneDrive with up to 30GB of free cloud storage. Furthermore, hit games like Candy Crush Saga and Minecraft Pocket Edition will be playable on the device.
Expect seeing the Microsoft Lumia 430 on shelves in April, when the phone is projected to launch in India, Russia, Kazakhstan, Ukraine and Belarus, as well as in parts of Pacific Asia and the Middle East. You'll be allowed to have yours in any color, as long as it is black or orange.