Members of European Parliament pass legislation calling for universal phone charger
51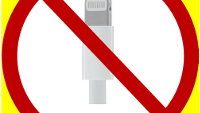 Europe could be close to passing legislation that would force phone manufacturers to use a universal recharger for their phones in the continent. Members of the European Parliament (MEPs) voted to pass the law, although Europe's council of ministers still has to vote on the legislation. As written, all phone manufacturers would have to offer the same recharging system for their devices by 2017. The idea is to reduce the number of different plugs and cables that Europeans need to carry around with them.
The odds favor that the microUSB charger would get the nod throughout Europe, and that could be troublesome for Apple. The Cupertino based firm has its proprietary Lightning charging system that replaced the old 30-pin charger with the launch of the
Apple iPhone 5
.
Apple has said in the past that instead of replacing the Lightning port with a microUSB port, if the legislation becomes law, it will offer buyers of its devices in Europe an adapter that would allow the product to meet the legal requirements in the continent.
source:
TechRadar