Meet Cortana in an up-close video
20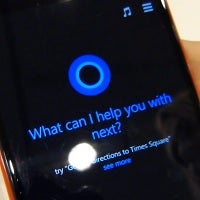 One glaring gap between Windows Phone and iOS and Android, is that the latter two mobile platforms have had a "digital" assistant for some time now. Windows Phone had some voice recognition features, but nothing that would remind you to ask about your relative's new puppy the next time you talk to him or her.
Once Windows Phone
8.1
rolls out commercially, that will no longer be the case now that Cortana is going to be on the scene. Comparing Cortana with Google Now or Siri is certainly valid, a lot of functionality overlaps.
Cortana really shines in how it can interact and execute tasks on third party applications. It also allows you to direct how much
insight
it may have into your information and behavior. Assuming that you give Cortana free rein to do what it is designed to do, it will be able to provide granular reminders of things to do based on where you are, or who you are in contact with.
We got to spend some time with one of the Principal Program Managers from Microsoft that worked on the Cortana team, specifically the experiential elements which are highly complex. Not only did the team have to ensure smooth interface with Bing and third party apps, but they added subtle personality traits, making Cortana seem less robotic.
Cortana will be released with Windows Phone 8.1 in beta while Microsoft irons out the nuances that can only be encountered by real-world use. Once Cortana is ready to expand out of North America, the beta tag will be removed. We note that because even in our basic demo and discussion below, there was a small hiccup. Given how noisy it was though, we are pretty confident that Cortana will indeed impress you when it (she) finds itself (herself) on your Windows Phone.