MediaTek's true octa-core chip gets benchmarked again on AnTuTu
35
MediaTek, back in July,
announced the world's first true octa-core processor
. The company, known more for producing low-priced processors for entry-level smartphones, would not have been your first guess if you had to name which silicon slinger would be first out of the gate with a true octa-core chip. Unlike the Samsung Exynos 5 with its big.LITTLE architecture, all 8 cores of the MT6592 can be active at one time. With Sammy's chip, only one group of four cores can be in use at one time. One set of four cores is used for heavy lifting while the other set takes care of small, housekeeping chores. Of course, Samsung has displayed how Heterogeneous Multi-Processing (HMP), added to its Exynos 5420 proceesor, allows the latter to access all eight of its cores at the same time.
The MT6592 is based on Cortex-A7 and uses the 28nm architecture. A prototype handset using the MT6592 clocked at 1.7GHz, featuring the Mali-450 GPU, a display with resolution of 720 x 1280, and containing 1GB of RAM, was clocked at 25,496 on AnTuTu 4.0. That fails to top benchmark numbers for the Qualcomm Snapdragon 600 and Qualcomm Snapdragon 800. The top clock speed for the MT6592 is 2.0GHz and a score above 30,000 would undoubtedly accompany a boost to that level. Earlier this Summer,
the MT6592 did cross the 30,000 threshold on the AnTuTu test
and while the speed of the silicon was unknown, it would appear that the chip used for that test had a clock speed at or close to the 2.0GHz max.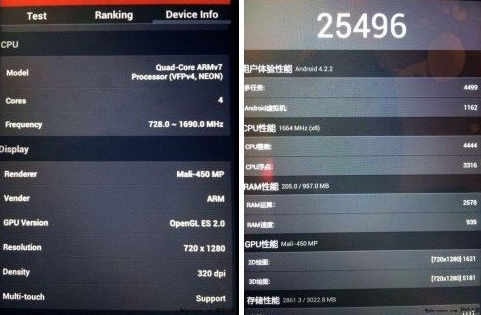 The true octa-core MT6592 gets benchmarked on AnTuTu
Thanks Anonymous Tipster!
source:
GSMInsider