MediaTek puts octa-core chip against quad cores, shows its extra oomph in Gameloft's Modern Combat 5
14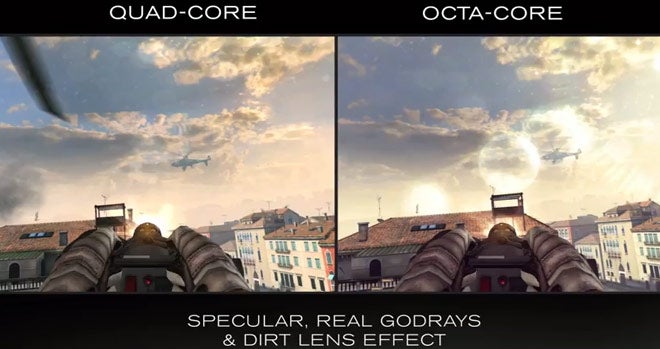 MediaTek is the rising Chinese star amongst chip manufacturers and just last week it
officially unveiled its octa-core MT6592 chip
. To further convince you in all the benefits of eight cores it has partnered with Gameloft for its upcoming Modern Combat 5, and it's showing some awesome effects made possible because of the multiple cores.
The video demo is right below and you can see the additional textures, reflections, particles rendition, flares and all other visual candy that spices up the first-person shooter. MediaTek claims it has the first
"true"
octa-core chip that makes all of that possible.
Now, MediaTek compares the MT6592 with a generic "quad-core" processor, but it seems obvious that it is gunning at Qualcomm, the largest chip maker that currently relies on the quad-core Snapdragon 800 and its upcoming Snapdragon 805 high-end chip is also quad-core.
Still, even though MediaTek claims all these graphical advances are possible because of the eight cores, it's more reasonable to speak about graphical chips rather than processors when gaming is concerned. We have seen other devices score admirable framerates at even most demanding games (and Apple's dual-core A7 is a brilliant example), so we wouldn't want to dumb down the debate and just assume eight is better because it's more. Truth is that very few apps and games are optimized to take full advantage of even quad-core chips, and for octa-core the number will be even lower.
There are some exceptions, though, and Modern Combat 5 seems to be one of them. Take a look at how this translates in real-life gaming right below.