MediaTek 2014 roadmap leaks, hexa-core and QHD-capable octa-core chipsets in tow
3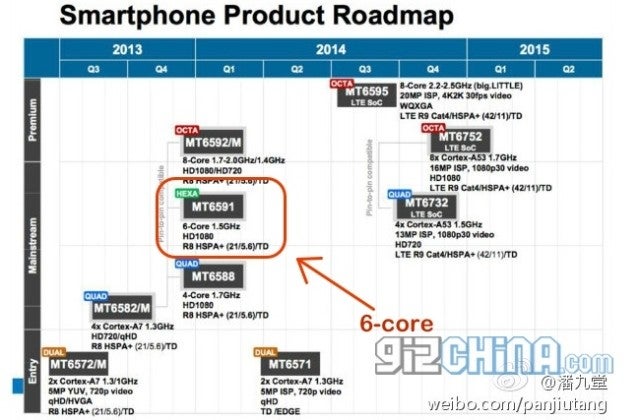 A MediaTek product roadmap spanning theperiod between Q3 2013 - Q2 2015 leaked online. As expected, it'sfull of nice surprises. The most interesting additions to theTaiwanese silicon slinger's line-up will be a 6-core ("hexacore"),and two powerful octa-core chipsets. Here's what's in tow:
MT6591

- six cores ofunspecified architecture running at 1.5Ghz. Support for up to 1080pdisplay resolution and TD-SCDMA/WCDMA networks. It's primed for Q12014, which means the chip should be officially announced by April.
MT6595

- eight heterogeneous cores ofunspecified architecture in a big.LITTLE arrangement. Thelower-powered cores are clocked to 2.2GHz, and the higher-powered areclocked to 2.5GHz. The chipset will support up to 20MP image signalprocessing, 4K 30fps video, and up to WQXGA display resolution(1600x2560). Networking support is LTE Category 4 and HSPA+. Thechipset is coming in early Q3 2014, which could mean an announcementsometime in September.
MT6752

- this will be MediaTek's first64-bit octa-core CPU. Its reveal was expected for this year's MWC,however, the company announced only the 64-bit quad-core MT6732. TheMT6752 features true octa-core processing with eight Cortex-A5364-bit cores clocked at 1.7GHz, up to 16MP image signal processing,up to 1080p/30fps video and display resolution, and LTE Category4/HSPA+ support. Both chips are "pin to pin compatible",which makes the MT6752 something of a "drop-in" replacement for the MT6732 for manufacturers. The 64-bit octa-core SoC is primed for the middle of Q4 2014, which probablymeans a mid-November announcement and early 2015 manufacturing phase.
source: GizChinavia IntoMobile