Max Payne Mobile hands-on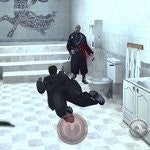 It's hard to believe it in some way, but it has been over adecade since Max Payne infiltrated the PC and PlayStation 2, bringing us onememorable action game that's most notable for its bullet time implementation.Thankfully, Rockstar is so kind enough to port over the game to the iPad, allpriced at a mere $2.99. On the other hand, Android users just need to wait abit more time before it's made available for them.
So let's talk about the graphics in Max Payne. Seeing thatthe original game was developed over a decade ago for the PC, its visuals aren'tdeemed as the most cutting-edge in the mobile sphere – as some texturedsurfaces lack detail, and instead, appear pixilated at times. Still, it's a sharplooking game that runs fluidly and without much lag. Since this is available onthe iPad, it takes us a little bit of time trying to adjust to the controlscheme. Actually, it seems way too sensitive at first, but that can be remediedby visiting the options menu. However,due to its sensitivity, the game tends to exhibit some light evidence ofjumpiness as we're moving Max around very quickly.
Absolutely, the game's bullet time mode makes it so fun toplay, as time slows down while Max dodges his way against some enemies.Considering that touch controls can be a bit fidgety in terms of accuracy, thegame is rather lenient if the cursor isn't necessarily aimed at an enemy that you'retrying to shoot – so yeah, it tends to make shooting enemies extremely easy andwithout effort. As much as we enjoy the cool bullet time feature of the game,it's actually the engrossing storyline that attracts us even more. It's in-depth,graphic, real, and draws the fine line of being a Hollywood blockbuster.Seriously, the presentation of the game helps as we're literally put into Max'snightmares.
For $2.99, it's easily a buy no matter what, mainly becauseof its great gameplay, cool bullet time mode, and rewarding storyline. If it'syour first time playing, you'll surely be impressed, and for those who want torelive it, fond memories from yesterday will surely come rolling back.