Satechi Audio Cube Bluetooth Speaker flaunts a boxy design and adds some oomph to your audio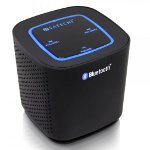 By now, we've been acquainted with a trove of Bluetooth speakers for various smartphones – with some being a bit more interesting than others. Obviously, they all essentially perform the same function, like streaming audio wirelessly from our device, but some are able to distinguish themselves more than others.
In fact, Satechi's new
Audio Cube Bluetooth Speaker
is simply one of those things, not because it'll provide superior audio performance, but mainly for its
boxy and interesting looking design
. If you can't tell by the name, the Audio Cube Bluetooth Speaker employs an alluring boxy design to match the appearance of, you know, a cube! So yeah, it's something different from the conventional designs we're normally accustomed to seeing, but even better, it's still portable enough to carry along.
So what's in this cube like speaker? For starters, it delivers
2x2 watts
of exceptional audio performance thanks to its dual-channel speaker system. Furthermore, it tucks away a built-in rechargeable battery that's rated to provide
6 hours of playback
. Aside from the obvious wireless connectivity via Bluetooth, it also boasts an auxiliary port to connect to other devices via a wired connection – while also doubling as an extended speaker for other devices.
Priced at
$44.99
, you can pick up this cool looking Cube Speaker through Satechi of Amazon directly. Heck, its design alone might be worthy enough to make it a centerpiece on your living room coffee table or something else.
source:
Satechi