Mark Cuban takes on Lily Adams in new AT&T ad
5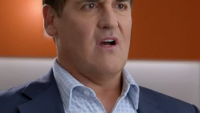 Mark Cuban is obviously an amazing negotiator. After all, he got Yahoo to pay $5.7 billion for Broadcast.com in 1999 right at the top of the market. Cuban also had the intelligence to dump his Yahoo stock before the shares plunged. And of course, as one of the sharks on ABC-TV's
Shark Tank
, Cuban is known for stealing deals at the last second from his fellow investors.
In a new ad for AT&T, Cuban walks into the same AT&T store where Lily Adams (portrayed as usual by Milana Vayntrub) works. Cuban explains that he is taking his family on vacation next month and is expecting them to quickly churn through their entire data bucket. Of course, Ms. Adams mentions that with Rollover Data, the data they don't use this month could be rolled over and added to their data cap the following month. "
If you want me in on this, I want a piece of the action,"
says Cuban. Adams responds that he will receive the Rollover Data automatically and both shake hands on the deal. "
You should negotiate more stuff
," Adams says, "
you're pretty good at it
."
Uh-oh. It sounds like the entire Cuban family is going to be tightening up on data consumption this month so that they can have more for their vacation next month. That means no streaming Dallas Mavericks games for Cuban unless he has a Wi-Fi connection.
AT&T also uses the ad
to promote their new 7GB data bucket
which is available for a limited time only, priced at $75 a month. Sign up for AT&T Next or bring your own smartphone and the per-line charge is just $15 for each handset. Thus, as seen in the commercial, three lines with 7GB to share is just $120 a month.
Check out the ad for yourself by clicking on the video below.
source:
AT&T