Many countries to receive limited Windows Phone 7
5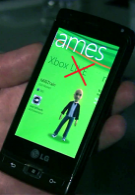 A rumor has surfaced saying that
Windows Phone 7
's non-EFIGS country releases will feature a somewhat limited version of the OS. 'EFIGS' refers to the English, French, Italian, German and Spanish languages. The 'non-EFIGS' release then refers to the other markets of release.
The supposed limits placed on those WP7 releases include no XBOX Live connectivity, no Zune support, and a limited Marketplace. These devices will also use the default keyboard (no native characters), will display web and e-mail content in their native languages only, and the devices will not perform copy/paste functions.
Some of this isn't surprising, such as Zune support, which is currently unavailable outside the US. Non-EFIGS countries will eventually receive the same functionality and native-language keyboards as the EFIGS releases, but it might take some time.
We know what you're thinking, 'How does this affect OUR version of WP7?'. It doesn't. Don't worry, we're still expecting a polished product out of the gate. But it's interesting to understand the timetable of Microsoft's massive launch. What's more important right now than getting everyone connected to Zune is making sure that the
October 11th event in New York
makes a huge splash and gets some momentum going.
source:
WMExperts