Man enters Apple Store and deliberately smashes dozens of iPhones (Video)
99+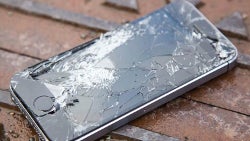 It's not rare that users who have an issue with a new product they bought are not exactly pleased with how customer support handles their complaints. You can read all sorts of support horror stories on the Internet, pointing fingers at pretty much every somewhat mainstream brand — even if said company is known for making an extra effort in the consumer relations department. It just happens that sometimes an employee lacks the training, the situation is a bit more unique, or the customer just has an outrageous claim, or any combination of those, and the situation becomes difficult and frustrating.
However, what is rare, is to see an outraged customer take a steel ball, walk into a store, and destroy as many products of the offending company as they can. Well, it happened in an Apple Store in France, and, obviously, someone had their iPhone on hand to take a video of it all (also, thanks for the vertical video, Mr. X).
So, we don't have the full scoop on this, and it's not very likely that we would. All that we know is that the person you see on the video entered the Apple Store and started smashing iPhones. He is obviously angry, but not to the point of being blinded by rage — these are some calm, calculated movements we see. We'd rather use the word "entitled" here. At some point, he addresses the people in the store, saying that he will get his money back, though, it is still unknown what exactly ticked him off — a software bug, faulty product, or the
lack of a headphone jack
?
The first video in the gallery below shows just the Apple Store ordeal. The next one is a recording of the full event — about 90 seconds after the destruction of the iPhones begins, the man is held by security, presumably waiting for the police to arrive.
Folks, if you want to get your money back for whatever product you bought, we are pretty sure that destruction of property is not the best way to get your point across. In fact, the person in this clip might just have to pay 10 times more than what he presumes he is owed, to cover for all that damage.
via:
Digital Trends