Man climbs rock to propose via FaceTime, ends up rescued by helicopter and arrested
29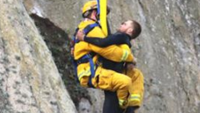 Last Thursday, 27-year old Michael Banks had an idea. He wanted to climb the 600-foot Morro Rock in central California, and using the FaceTime feature on his iPhone, propose to his girlfriend. While Banks managed to climb the rock and make the proposal, things went downhill from there.
According to Morro Bay fire Capt. Todd Gailey, Banks took a "much steeper" path heading back down the rock than he took on the way up. As a result, Banks found himself stranded, unable to move in any direction. His feet were dangling 80-feet off the ground. A helicopter had to be dispatched to the scene to pluck him off of the ledge.
Once back on terra firma, Banks was given a misdemeanor citation from the California State Parks, traditional when a helicopter is needed to rescue someone off the rock. The city of Morro Bay released a statement saying that Banks would be billed for the cost of the copter and the rescue. Things became bizarre after his arrest and release when Banks returned to Morro Rock, seemingly under the the influence. This time, he was arrested for being in possession of meth after witnesses saw him acting strangely.
Perhaps Banks' reaction has something to do with the answer that his girlfriend gave him in response to the FaceTime proposal. While earlier reports said that the girlfriend replied in the affirmative, authorities familiar with the situation were less sure about her answer. Considering his subsequent actions, perhaps she simply reconsidered her original response. "We are aware that there are now conflicting reports as to whether the proposal was accepted, " said the town of Morrow Bay in a statement. "We have no additional details."
source:
AP