Man claims Motorola DROID 2 exploded leaving him injured
50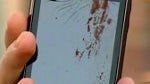 A man from North Texas was just finishing a call on his brand new Motorola DROID 2 when the phone reportedly exploded leaving the man injured and bleeding. The man, Aron Embry, said he heard a loud "pop" and then noticed blood dripping down his face. After treatment at a local emergency room, he received four stitches, but was told that he won't suffer hearing loss. The incident will be investigated, however for the time being there is no official confirmation of the man's statement.
"Once I got to the mirror and saw it, it was only then I kind of looked at my phone and realized that the screen had appeared to
burst outward
," he said. The phone, however, stayed fully functional with an
unaffected battery
and almost no signs of damage except for the shattered glass near the speaker. The man and his family were uninsured and would seek compensation from Motorola and Verizon.
Motorola released an official statement to reassure customers that it will investigate the issue:
"Motorola's priority is, and always has been the safety of our customers, and all Motorola products are designed, manufactured and tested to meet or exceed international and local standards for consumer safety. We will reach out to the consumer and investigate this thoroughly."
Exploding phones are a rare occasion, but such cases are not unseen and some of them have been fatal. Unlike this case, in which the battery remained unaffected, the most common reason for exploding phones seems to be
related to the battery
. So if you decide to change the battery on your handset you should be extra careful to choose a compatible product. Other than that to further protect yourself you could keep the phone away from liquids and monitor if it overheats.
source:
WFAA
via
Androidos.in