Malaysian retailer Switch cancels $50 Apple iPhone 5s sale after getting mobbed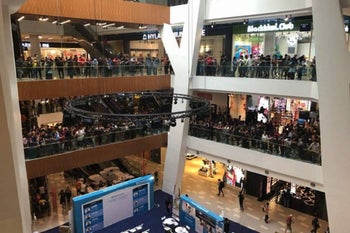 Switch, an authorized Apple retailer in Malaysia, was about to hold a massive clearance event on older iPhone and iPad models. With the price of the
Apple iPhone 5s
cut to $50, and iPads starting at $79, consumers throughout the country were attracted to the deals. In fact, a huge crowd of over 11,000 formed a line outside the store on the evening before the sale was scheduled to take place. The huge throng appeared even though midnight queues were not allowed at this particular Switch location.
Switch employees handed out claim tickets to those at the front of the line, but as the doors opened the crowd became unruly as everyone tried to push their way into the store. With the conditions becoming extremely dangerous to consumers and store personnel, the retailer shut its doors and cancelled the clearance sale.
We are truly sorry for the Demo Clearance Event yesterday. We did not expect the magnitude. We were overwhelmed by the 11,000 turned up. We sincerely would like to thank our customers who came from other states, woke up early, stayed up all night, brave the traffic and temperature at night, and trying your best to stay in line at our clearance event. This has been a learning curve for us and we promise we will do much much better. We thank you for your support."-Switch
Had Switch not decided to put the kibosh on the deals, there is no telling what might have happened. After all, there were only ten Apple iPhone 5s units available for $50 and just one
iPad Air 2
priced at $79. Switch did offer a small discount on the 64GB and 256GB
Apple iPhone X
, and a 32GB
Apple iPhone 6
in gold during this past weekend.
source:
Switch
via
AppleInsider