Maker of geodata-leaking Brightest Flashlight app moves unscathed through the FTC
4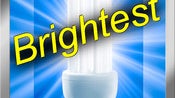 Remember "Brightest Flashlight"?It's the free flashlight app that wasn't really the brightest, butnevertheless, it ended up on 50 million Android users' smartphonesand covertly leaked their real-time locations to its maker, whichwent on to sell the data to advertisers. Bad stuff! Of course, theFederal Trade Commission intervened, but the app's maker, on-mancompany GoldenShores Technologies, is getting away with rather laxtreatment considering the sheer scale of its mischief.
Basically, GolenShores owner Erik Geidlis asked not to collect geolocation data without explanation, made tokeep records for the FTC, and obliged to inform the agency about anynew businesses he might start in the next 10 years. He will also haveto erase all collected data from the aforementioned app. And, aftersaying "sorry", he will be free to play with the otherchildren again.
Most questionably, the FTC won't befining Geidl on the ground that his app is free. But the agencyhasn't acknowledged that he may have profited from the user data heobtained illegally, nor taken action against the advertisers who mayhave bought it. Of course, it could turn out that Geidl didn't manageto sell any of the data, but this doesn't seem especially plausible.More likely than anything, the man hired a very competent lawyer.
via GigaOm