Make me pretty: Samsung Galaxy S7 edge vs LG V20 beauty modes comparison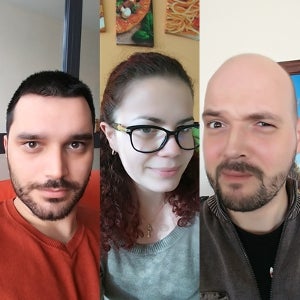 For the average alien, it doesn't take too long to notice that South Korea is obsessed with physical beauty. How big is this obsession, exactly? According to certain sources, the country has the highest rate of plastic surgeries per capita not only in Asia but in the whole world.
Influenced by K-Pop, it's already a multiple billion-dollar industry showing zero signs of slowing down. This obsession has long ago penetrated other markets, including our favorite one - smartphones.
For a long time now, phones made by South Korea-based Samsung and LG as well as multiple devices originating from China have had different beautifying modes on the front-facing and sometimes even on the rear cameras. Smoothing the skin, slimming the face, correcting the shape of the face, and even enlarging the eyes of the user are just a few of the manipulations that can be applied to your face as you snap a selfie. Indeed, when have people craved for realism in their self-portraits?
We don't take selfies to look realistic, we take selfies to look good on social media
Although we are not that infatuated with selfies, we still snap a few of these from time to time... for reasons! Given that Samsung and LG are among the more popular smartphone manufacturers out there, we thought it would be nice to show you a comparison between the beautifying modes between two of the best contemporary Samsung and LG devices -- the
Galaxy S7 edge
and the
V20
-- and show you to what extent these two will make your faces a bit more appealing.
What kind of beauty modes the Galaxy S7/S7 edge and the V20 have?
Now, it's important to notice that the
Galaxy S7
edge
comes with a tad more beautification features than the V20. We've got:
Skin Tone, which airbrushes the skin and gets rid of all your blemishes, skin flaws and imperfections;
Spotlight, which highlights certain aspects of your face
Slim Face, which... slims your face;
Large Eyes, which locates your eyes and ever-so-slightly increases their size;
Shape correction, which prevents image distortions.
In the meantime, the LG V20's beauty mode is a much simple business - you only get a slider that adjusts the airbrushing of your skin tone. It has 8 positions and is set to 4 by default, with little to no difference between these - the V20's smoothing and overexposing the skin is way more aggressive than the one on the Samsung Galaxy S7 edge to the point where faces have that eerie blurred effect applied to them.
Let's see how these beauty effects work in real life.
Scene 1 - Samsung Galaxy S7 edge
Let's see how the Galaxy S7 edge will treat me with the front camera's beautification turned off and on.
Luckily, you can adjust the levels of most of these in order to achieve a nice compromise between realism and beautified selfie. The one below has turned out pretty good - Skin Tone has smoothed the skin, while Spotlight is highlighting the right part of the face in order to compensate for the slight underexposing. A few wrinkles have gone the way of the dodo- ladies probably love that!
< Beaty modes off
Skin Tone on >
Scene 1 - LG V20
Now, you wouldn't explicitly see that in the sample below because our first model's skin is mostly blemish- and flaw-free, but we'll get to the point later on. Still, notice the blur on the lower lip – a dead giveaway for post-processing.
< Beauty mode off
Beauty mode on >
Scene 2 - Samsung Galaxy S7 edge
I don't regard myself as a particularly handsome man, but thanks to the Galaxy S7 edge, I feel like I might just get myself a slew of likes on Instagram that will probably boost my ego for all the wrong purposes. In the samples below, we've tried to achieve a more natural look by disabling Slim Face, Large Eyes, and Spotlight, leaving only Skin Tone to do its mojo. It ditches many of my blemishes and skin flaws, all for social media's sake. The edits are not that severe, leaving a bit of much-needed detail in my Movember beard.
< Beaty modes off
Skin Tone on >
Scene 2 - LG V20
I admit I went a bit overboard with the beautification of the LG V20 here. Most of my skin looks unnaturally smooth, milky even, though the airbrushing is a bit more apparent. The blurring of my beard's hairs is not something I lusted after, but I have to accept for social media's sake.
< Beauty mode off
Beauty mode on >
Scene 3 - Samsung Galaxy S7
Aside from removing all skin imperfections, the Galaxy S7 also corrected the blush areas on Paul K's cheeks. We are still not sure if we like these edits or not, but we have to agree that the difference between the non-edited and the beautified selfie are quite obvious in this scene.
< Beaty modes off
Beauty modes on >
Scene 3 - LG V20
Rawr! The V20 beautification is definitely making our model look... unnatural and uncanny, just like those androids on HBO's Westworld! The airbrushing is gradually transitioning to a gaussian blur of sorts and should act as a reminder to tone down those beautification modes a bit.