Mad Catz MOJO Android Micro-Console hands-on
6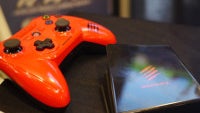 Mobile gaming is obviously big business, even more when we're seeing many traditional console developers are moving over to the mobile scene. In the last few months, there have been many dedicated consoles and gaming controllers that have been announced, like the
NVIDIA Shield
,
Ouya
, and
Moga Pro controller
, which goes to show that mobile gaming is increasingly drawing many people. During the
CE Week Line Show
held this week in New York City, we managed to get a sneak peek at the
Mad Catz MOJO Android Micro-Console
, a tiny sized box with an accompanying gaming controller that's being billed as the "
most powerful Android gaming console when it launches this holiday season
."
Rather than having an all-in-one solution like the NVIDIA Shield, which brings together the console, controller, and display into one gadget, the Mad Catz MOJO Android Micro-Console is a two-part system. At the heart of it all is the micro console, which houses the brains and guts that are needed to run some of the most cutting-edge and demanding games for mobile – albeit, the specs of the unit itself is still largely unknown. Regardless of that, it's touted as being one of the most powerful Android gaming consoles, so we can rest easy knowing that it'll be outfitted with some serious gear. In the rear of this pocket sized console, it houses all the ports necessary to bring gaming to any display or HD television set – it consists of 2 full-sized USB ports, 3.5mm headset jack, power port, microUSB port, microSD card slot, and a HDMI port.
Complementing the console is the
Mad Catz CTRLR
gaming pad, which employs the distinct button layout of the XBOX 360's gaming controller. This Bluetooth enabled can be used to work with any Android device out there, which adds to its depth, but it's mainly used to play nicely with the micro console. As for the build quality and construction, it's pretty much on par to Mad Catz's normal arsenal of gaming pads for consoles – though, it's super glossy and tends to show smudges and fingerprints.
Now, what separates the Mad Catz MOJO Android Micro-Console is that it doesn't have a closed experience like other comparable offerings, but rather, it sticks to providing users with an
open Android experience
. Basically, you're not limited to certain titles that would normally be deemed as "
compatible
" to work, but rather, you can start playing your existing titles – no fees, subscriptions, or special versions of games needed.
Needless to say, it'll be interesting to see how things pan out for this, but we're still in the early stages of its development, seeing that specs, pricing, and an exact release date have yet to be confirmed. Still, it's enticing enough considering that Mad Catz is serious about making it as the most powerful Android console when it launches sometime this upcoming holiday season.
source:
Mad Catz