Moga Pro Review
18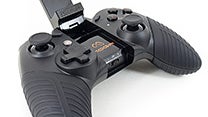 Introduction:
Mobile gaming is increasingly becoming fierce as traditional gamers are making their smartphones as their gaming console of choice. Obviously, most of the current titles for mobile have been optimized for touch, but as some hardcore gamers can attest, sometimes they don't quite provide the same level of enjoyment and control – even more when touch controls occupy the majority of on-screen space. Well, here comes the Bluetooth enabled
Moga Pro
to the rescue, as it intends to give us mobile games that console like experience with its ripe control and ideal button layout.
Design:
No need to agonize over the cramped confines of your smartphone's display, mainly because the Moga Pro is a console quality controller. Yes, you heard right folks, it's a gamepad that's ideal for all of our gaming requirements. Looking at it, one can't help but think about some of the distinct console controllers out there – like the XBOX 360 and PS3 ones. In fact, it looks and feels like the PS3 controller, but its control layout takes its cues from the XBOX 360 one. Surprisingly, it's extremely comfortable to hold and use over an extended amount of time, as its plastic body helps to minimize its overall weight. Indeed, it might seem hollow, but its construction seems solid to endure some of the punishment we sometimes give our gamepads over frustration in playing a game.
Armed with
dual-analog sticks
for precise controls, they have a solid amount of resistance as we move them around – while at the same time, they're outfitted with a rubbery soft touch feel to give our thumbs a good grip. With the
directional pad
, we can't complain too much about it, since it's raised and responsive too. Rounding things out on its façade, we have four
circular sized action buttons
that have a fair amount of travel, but even better, they have some backlighting so we're able to see them even in the dark – albeit, it's activated by pressing the recessed button on its underside.
Around its shoulders, we have two
analog triggers and two shoulder buttons
– just like the XBOX 360 gamepad. Smacked in between them, is the Moga Pro's microUSB port to charge its internal battery. Now, the unique aspect of the Moga Pro is uncovered as we lift the central front panel, which introduces us to the
adjustable Moga Arm
. Essentially, we're able to place our smartphones in it, which is nice and all, but it's wonderful because it firmly keeps it in place as well. Naturally, we can use the Moga Pro independently if want by using the included stand, which can accommodate tablets.
Overall, this is without a doubt the best designed gamepad we've seen thus far for mobile. Heck, it's nearly identical to the ones used by traditional consoles, so that we're quickly able to adapt and use it comfortably with a bunch of games right out of the box.
Recommended Stories