MWC 2013: We have arrived!
17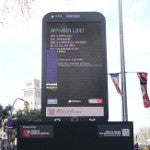 Ah, Barcelona – we missed you! Last time you welcomed us was exactly one year ago, when the previous edition of Mobile World Congress was held. And now, the time has come to once again dive into the fascinating world of things that go beep and boop, click and clack.
For those who don't know, Mobile World Congress is like Disneyland for geeks. All the major (and many of the not-so-major) companies that manufacture phones, tablets, or anything in between are present in one form or another, showing off their latest and greatest creations. And boy are we excited to get our hands on them!
There will be literally dozens and dozens of things to see – gadgets, accessories, you name it! However, you aren't expecting us to have all the fun without sharing a generous dose of it with you, guys, are you? Over the following days, we'll be doing hands-ons, taking pictures, and posting articles about every device or software product we get to check out. Pro tip: an easy way of keeping track of our coverage is to use the "MWC 2013" tag on our home page. Or just come back and check us out every few minutes – that works too.
Now we'll unpack our gear and have a short break after the lengthy trip. But don't go too far because before you know it, we'll be already covering the event as it unfolds. MWC 2013 starts officially on February 25th and runs through February 28th, but a massive amount of exciting news is coming on the 24th. Stay tuned, folks, for one of the year's biggest spectacles in the mobile industry is about to begin!