MWC 2012: dancing Android!
11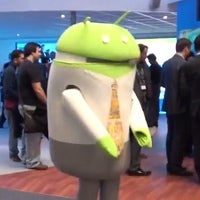 Now, here is something you don't get to see every day. While passing by the Intel booth at
MWC 2012
, we spotted a group of Androids (okay, people dressed up in Android suits) dancing to a techy tune. Naturally, we took out our camera and decided to share the experience with you.
So what could have made these Androids so happy that they decided to commemorate it with a dance? Could it be that the first Android smartphones sporting Intel hardware are hitting the market within several months? Feel free to check out the video below and share your thoughts with us in the comments.