MOGA Pro hands-on
6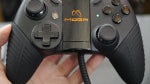 Gamers might have a portable solution right now for physical controls with the
MOGA Mobile pocket gaming system
, but the company has something even better on the horizon. Driving it home with a tried and true home console gamepad, the
MOGA Pro
is gunning to be the one accessory that hardcore mobile gamers are going to want to buy come this April when it launches.
Just like its sibling, the MOGA Pro is a
wireless Bluetooth gamepad for Android
– sorry iOS, Windows Phone, and BlackBerry 10 users, there's no official word that the MOGA Pro will support any platform aside from Android at the moment. However, if you're sporting any Android device, whether it's a smartphone or tablet, you're in luck with this beauty.
Without question, this wireless gamepad
replicates
the home console experience, seeing that its control scheme, build quality, and overall feel are nearly identical. Even better, you'll be able to attach your smartphone to it – and yes people, it'll even accommodate the pocket busting
Samsung Galaxy Note II
. As for you tablet owners out there, the MOGA Pro will come included with a kickstand, that'll prop up the tablet as you're playing a game.
Outfitted with an assortment of shoulder buttons, triggers, dual analog sticks, and a d-pad, it's everything you dream about with a mobile gamepad. And of course, it's wireless and offers a
rechargeable battery
for continuous on the go action. Best yet, this gaming centric beauty will be landing very soon sometime in April for the oh-so easy to dish out price of
$50
. At that point, it might seemingly become a
must-have
item for hardened mobile gamers.