MOGA Mobile pocket gaming system for Android hands-on
5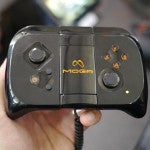 The video game industry isn't what it was like several years ago, as mobile smartphones have increasingly intruded the space. Nowadays, it seems as though game developers can bank the most amount of money by developing games for mobile – as opposed to the usual routine of sticking with the console scene. On one hand, these developers seek to employ various slick touch controls for their games, but certain ones, it seems as though a good
old fashion gamepad
would suffice the most.
Do you yearn for your traditional console gamepad when playing some of your favorite mobile games? Well, you're probably well aware about this company called
MOGA
, which produces the
MOGA Mobile pocket gaming system
for Android devices. Providing gamers with that familiar control scheme and feel, this portable game pad comes in handy with certain games. In terms of design, it doesn't really have an aggressive style to make it jump out us – though, we're amazed by how
light it is for its size
. In fact, it's hardly noticeable, which is primarily attributed to its
all-plastic construction
.
Even though we appreciate the
dual-analog sticks
that come in handy with certain gaming genres, we're not particularly fond of their flat feel. To tell you the truth, it's not the same kind of analog sticks you'd find with the XBOX 360 and PS3 controllers, but rather, it's similar to the dinky ones on Sony's PSP portable console. Regardless of that, it's nice that the control setup is a familiar one – almost identical to what we find on existing console gamepads.
However, its unique feature is found in the way we're able to
attach our smartphone
to it. Now, if there's one complaint, we have to say that it requires
two triple-A batteries
to run, instead of a rechargeable battery. Priced modestly at
$50
, we're certain mobile gamers will adore the gamepad experience – as opposed to touch controls, which can sometimes occupy a lot of the space on a smartphone or tablet.
MOGA Mobile pocket gaming system for Android hands-on