Vainglory – the game from iPhone 6's presentation – to finally be available this month. No scarf included
14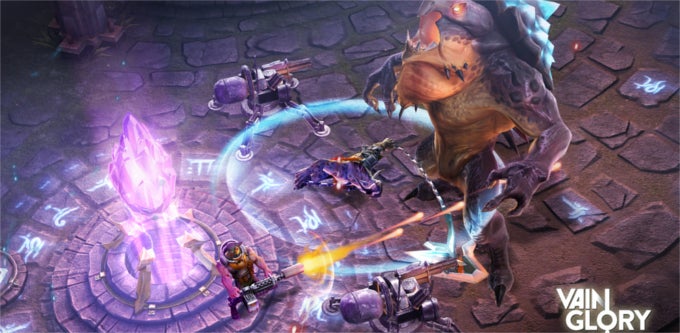 Many of you who watched Apple's
iPhone 6
event will remember that the company used a mystery game with heavy graphics to present the new Metal low-level graphics API. The ones who don't will remember a guy with a huge scarf instead.
So, back to the game – it's called
Vainglory
and is an action-strategy-RPG mix, or a so-called MOBA (Multiplayer Online Battle Arena), much like the famous DOTA and League of Legends games from PC. It is developed specifically for touch-based controls and it looks very promising, not to mention that such a title has a good chance of taking permanent hold in gamers' hearts, as the number of quality mobile MOBA games is, well... one (Fates Forever – check it out).
If you've been foaming at the mouth, waiting for Vainglory, know now that the game will launch in Europe on November 13 and in the US on November 18 and will be available for iPad 2 and up or iPhone 5s and up. That's right, developer Super Evil Megacorp went out of its way to make an OpenGL-compatible version for the game and support 3-year old iPads, while latest versions will make use of Apple's Metal API and will, most probably, look much better.
This goes against earlier reports that the developer only intends to release the game for the latest iPads, and we are unsure what caused the change of heart, but suspect that Apple may have given Super Evil a nudge or two, since it used the game to promote the iPhone 6 and having it
not
be available for the phone would... cause a bit of PR problems, maybe. Anyway – the game developer still insists on recommending that you play the game "on the largest possible screen and the newest possible device available to you".
A MOBA is a multiplayer-only game, which, in the case of Vainglory, pits two 3-man teams against each other in a battle to destroy the opponent's base. Every player controls a single hero, which gains different kinds of unique skills and items throughout the match, and the only way to win is to have a good team synergy with your mates and crush your opponents with a mix of smarts, timing, and action skills.
Vainglory is currently in soft launch over in Southeast Asia, Australia, and New Zealand, getting a lot of praise from players and critics. We admit, we'd love to give it a spin.
Any MOBA lovers out there? See you in the arena!
source:
Super Evil Megacorp
via
iMore