MIT app makes Android a portable supercomputer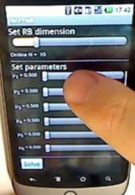 Researchers at MIT developed a prototype application for the Android OS which allows the device to run complex calculations that might otherwise be performed on a supercomputer. The phone still requires a supercomputer to derive these initial equations, but the phone can then execute them to a close approximation.
In explaining their inspiration, the app's developers explain that there are many complex calculations which must be performed in the field. They say that while they might know the general parameters of an equation (the work of the supercomputer), they might not know certain specific measurements (which are then entered into the Android device).
The mathematical models on which these calculations rely apparently take up very little memory, so many models can be stored, and any additional models can be downloaded from the field. A version of the application can be downloaded
here
, but it still might be gibberish to most of us.
source:
MIT
via
Engadget