Lumia 1030 front panel pictured, complete with Microsoft and Verizon logos
26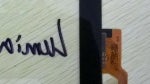 Where in the world is the Microsoft Lumia 1030?
We've seen traces of it in Rumorsville
. We've had Microsoft
flat out deny
it's working on a successor to 2013's Nokia Lumia 1020. It's a spotty track record that we have here, no doubt, but if leak source NoWhereElse is to be trusted, the Lumia 1030 exists indeed!
The French website published two photos of the handset's front panel, claiming that they are completely legitimate, and they also happen to be rich in revealing detail. For starters, the panel clearly has Lumia 1030 written on it in black sharpie. Moreover, there's a faintly visible Microsoft logo positioned in the upper left corner, which is joined by another faintly visible logo - that of US carrier Verizon - to the upper right. There's a close-up of the two logos available in the gallery, in case you fail to make out their appearance.
Now, these photos non-ambiguously suggest that, following Nokia's smartphone business acquisition, Microsoft has worked on, or has kept working on a big-screen Lumia 1030 smartphone that was/is heading to Verizon. So, although the existence of a Lumia 1030 at some point in time can be considered proven, it doesn't exactly mean that the long-in-the-making smartphone will actually grace Windows fans anytime soon.
But there's always hope, fuelled by the September release of
Windows 10 Mobile
. The Lumia 1030 could became its launchpad. Or it could not show up at all. We shall wait, and we shall see!
source:
NoWhereElse.fr
(
Translated
)