Lose an AirPod? Don't panic! Apple will replace it for $69
49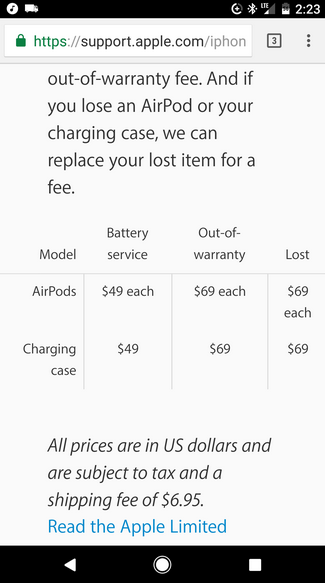 Apple will sell you a replacement AirPod for $69
It's funny how something designed to be a joke on television can ape real life. Back in September, we passed along a video from Conan O'Brien's Team Coco that was supposed to be a satirized television ad for Apple's in-ear, Bluetooth powered, wireless AirPods. The running joke in the video is that the AirPods keep falling out of users' ears forcing them to buy a replacement, helping Apple ring up some big business.
Just the other day,
Apple finally launched the magical wireless AirPods
. Since the
Apple iPhone 7
and
Apple iPhone 7 Plus
don't come with a 3.5mm earphone jack, Apple has developed a ready-made market for the $159.99 product. But what happens when one of the AirPods pops out of a user's ear and can't be found? Are they doomed to a life of one-eared listening? Of course not. Just like the solution seen in the Team Coco video, where there is money, there is a way.
According to Apple's support page, the warranty on the AirPods covers a damaged unit for up to one year. But if an AirPod goes missing or pops out of an ear and drops right down the sewer, Apple will sell a replacement for $69. Repairs outside of the warranty period will also cost $69. While battery problems are covered for a year under the warranty, once that expires it will cost $49 to service the battery on the AirPods and the carrying case. Speaking of the carrying case, which doubles as a charging dock, if lost it will cost $69 for a new one.
The best thing that you can do is make sure that you never lose your AirPods, and that they stay firmly stuck inside your ear. If they fall out, you will find yourself copying the Team Coco ad that you can view by clicking on the video below.
Thanks for sending this in!
source:
AppleSupport
,
Team Coco