Liveblog: New Nexus 7 announcement
19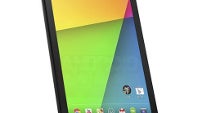 Hey guys and welcome to our liveblog of today's Google event, hosted by Android and Chrome head Sundar Pichai. We are looking forward to this event because we will expect to see the refreshed Nexus 7 make its debut and while it may be considered only an incremental update of sorts, its form factor, rumored price point and the fact that it is a Nexus device make it very desirable.
The new Nexus 7's most notable features might be the bump in screen resolution from 1280x800 to
1920x1200
, bringing full HD to the mix.
Also added to the hardware is a 5MP camera.
There will still be a quad-core processor running the show, but instead of the NVIDIA Tegra CPU it will be a
Qualcomm Snapdragon S4 Pro
and there will be
2GB of RAM
.
The new tablet will also be a little thinner than the current model, perhaps
as thin as 7.5 to 8mm.
That means that things inside are getting cozy, so a slightly smaller battery will be on board, 3,950mAh versus the first generation 4,325mAh unit. That also means the new Nexus 7 should be a little lighter.
With that bump in specs comes a bump in price, so expect a new
16GB model to retail for $229
and a
32GB Nexus 7 to run $269
. That pricing most certainly reflects Wi-Fi only models, though LTE support is expected to be an option as well. If you saw the
press renderings of the new tablet
, that little card-tray on the side is not a microSD card slot.
With this new hardware, we are also expecting a new version of Android to be announced,
Android 4.3
seem somewhat incremental from Android 4.2,
but there are some significant improvements
which we hope to showcase on the Nexus 7. The camera interface is expected to be enhanced and easier to navigate. Most notably though we should see the fruits of Google's Project Roadrunner take root which means that we can expect much longer battery life. There are also changes to the on-screen keyboard.
All these musings will find clarity soon enough, keep your browser pointed at PhoneArena.com as we will liveblog the event as it unfolds. We will be sure to get some solid hands-on time too.
Sundar's presentation is scheduled to begin at 9:00am PT | 11:00am CT | 12:00 Noon ET | 5:00pm GMT!