Likely Samsung Galaxy S5 model with Snapdragon 805 and a 5.2'' QHD (1440x2560) display revealed
99+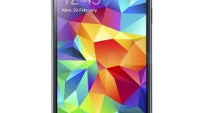 Update: The SM-G906S' info tab on the GFXBench website

is no longer hidden

. According to the specs sheet, the suspected Galaxy S5 model will pack the still-unreleased 2.5 GHz quad-core Qualcomm Snapdragon 805 system chip with Adreno 420 graphics and 3GB RAM, along with a larger, 5.2-inch QHD (1440x2560) display. A 16-megapixel camera is also listed. Keep in mind that this could end being an altogether separate device, and not a Galaxy S5 model.
Follow the tech industry long enough, and you'll soon realize that a wealth of, strictly speaking, unconfirmed information on new devices comes through benchmark suites. GFXBench is pretty high on that list, with practically every manufacturer having had a slip at one point or another.
This time around, we have Samsung, and a very interesting device, dubbed SM-G906S. Now, this still unknown handset is curious for two reasons. First and foremost, and despite of having its 'Info' tab hidden, the device clearly sports one of those super-crisp Quad HD (1440x256) screens. And secondly, we've been hearing rumors of a possible Samsung Galaxy S5 (SM-G900) with a QHD screen for a while, although the last time we were looking at device code-named
SM-G900R4
. That last one definitely follows the naming scheme of Galaxy S5 models more ardently, so there's obviously a decent chance that we're looking at an altogether different device with the SM-G906S (and not a Galaxy S5).
It's also unknown what kind of processor/memory combo is powering the SM-G906S, though it's probably safe to say that it's something very high end, seeing as it outperformed the Exynos-based SM-G900H Galaxy S5 in the GFXBench's Manhattan test. That's despite the former having to push a whole bunch of extra pixels. That said, it falls behind the SM-G900H in the T-Rex test. Take a look for yourself.
Recommended Stories