Like the blur effect on the Apple iPhone 7 Plus? New app brings it to the iPhone 7 and older models
26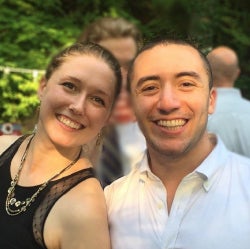 If you own the
Apple iPhone 7 Plus
, you've probably fooled around with the Portrait mode. In combination with the dual-camera setup on the back of the device, this allows you to blur the background of certain pictures using the depth of field gimmicks available with the model. But suppose you own the
Apple iPhone 7
. There is only one camera on the back of the unit. You can't mess around with depth of field using just one camera, or can you?
A new app expected to launch any day now will not only offer the depth of field and bokeh effects to
iPhone 7
users, it will work on models as old as the
Apple iPhone 5s
. The name of this app is
FabFocus
, and it isn't known yet whether this will be a paid or free app. Considering what FabFocus is supposed to be able to do, we'd be surprised if this were a freebie.
Using AI, the app uses facial recognition to keep people in the foreground in focus, while it blurs what the app believes to be the background of the photo. You can check out some examples of how well FabFocus works by clicking on the slideshow at the bottom of this article.
"With only one-touch, FabFocus is a simple and powerful tool for instantly turning your portraits into professional-looking photos.

For novices without any previous experience or advanced photographers, FabFocus uses facial recognition to bring DSLR-like depth of field and bokeh effects to any iPhone.

*** Automatic Depth of Field ***
Using advanced facial recognition A.I., FabFocus detects people in the foreground and automatically blurs what it distinguishes as the background. It's that easy to take an amazing portrait with a professional depth of field effect.

*** Bokeh ***
Quickly adjust blur and transform any point lights into customized aperture shapes like hearts or stars!

*** Quick Touch Up ***
For minor adjustments, use your finger with the built-in tool to get your photo just right within seconds."-Second Verse
source:
SecondVerse
via
RedmondPie