Less color, more battery: see the $200 E Ink Android phone that lasts a week
29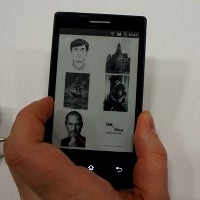 If you don't care about HD or Full HD resolution, or even color, then the EUR 150 (~$197)E Ink Android phone is for you, and was on displays at the MWC expo.
This proof-of-concept device runs on a golden oldie Android Gingerbread, and sports one of the biggest advantages of electronic ink displays - a week of battery life. It is also as visible outside as a sheet of paper, and has no fancy packaging to weigh the phone down, so the handset is feathery light.
Granted, with today's smartphones being more a tool for media consumption, and less for anything else, the E Ink Android phone doesn't stand much chance, but the makers are certain the screen can make inroads as a secondary display on the back of LCD or AMOLED phones, for instance, allowing a quick info glance any time without sucking the battery dry.