Lenovo's unreal concept smartwatch features secondary, 'Magic View' display
4
One of the common problems with personal smart devices is that, well, they're often not as
personal
as we'd like. Sure, one can set a password to obscure most private content, and even, as with many high-end devices, utilize the in-built fingerprint sensor. There's little to prevent someone's prying eye from peeking over your shoulder and seeing what you're up to, but Lenovo's very interesting concept smartwatch entertains new heights in delivering that truly personal experience.
The major players in the smartwatch game are continually trying to outfox each other and grab an early piece of this still-emerging market. At its Tech World convention in Beijing, Lenovo has demonstrated its second screen, 'Magic View' idea, and while we've seen quite a few smartwatch concepts here at
PhoneArena
, we've yet to stumble across anything quite like this: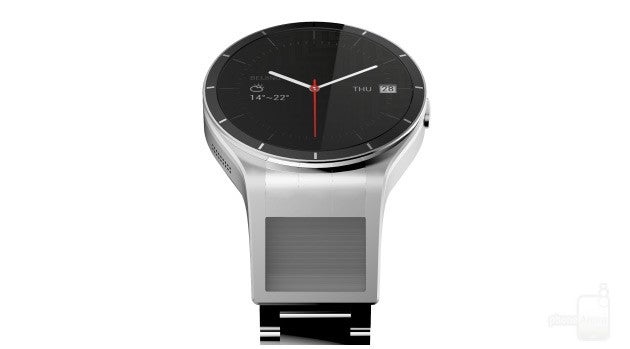 The display is intended to provide access to content such as photo and video. Now, I know what you're thinking --
how the heck would I be able to watch videos on such a tiny display?
Well, this is where things get amusing. The idea is that you raise your wrist, placing the display right in front of your eye, and the
"optical reflection"
technology projects images into your retinas at up to 20 times the size.
As concepts go, this one is, quite literally, an eye-opener. The idea itself is rather geeky, and much as few could envisage folks wearing Google Glass headgear when out and about, it seems even less likely that people will want to be holding a watch right up to their faces. At a time when liking your own photos on Facebook or Instagram is seen as faux pas, utilizing such a feature in public would almost certainly catch a few quizzical stares. Additionally, it would be
incredibly
easy to inadvertently hit someone with a flailing elbow.
Still, it should be remembered that Lenovo Tech World is about showcasing innovation, however far-fetched it may seem. So while it seems uncertain that this, or Lenovo's
projector smartphone
, will be coming to market any time soon, we're still glad that the company has decided to share.
Check out the video below, and let us know if you feel this Magic View concept should see the light of day by dropping us a comment.