Lenovo has unveiled a futuristic projector phone
26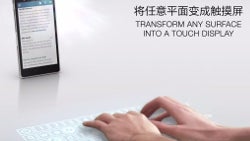 Lenovo has just announced a smartphone with a feature that has been often dreamed up by concept designers at its Lenovo Tech World conference. The new Smart Cast smartphone is equipped with a focus-free laser projector, which, according to Lenovo, can turn every surface into a touchscreen.
The promo video for the device shows that it's equally good as a piano, keyboard for typing, or even a gaming screen for some Fruit Ninja watermelon slicing action. Unfortunately, no specs have been unveiled at this time, neither do we have any word on when the phone should become commercially available.
Focus-free laser means that projecting the image to any surface, at any depth, and any angle should result in an equally sharp image – even if the projection falls on a few different planes. This means that the phone can also be used as a projector for presentations or even movie watching. Now, how exactly the touch part of this is going to work – and whether it will follow the image wherever it is, or will need a flat surface to work – we are unsure.
Well, looks like 2015 has some new tech up its sleeve after all. 'tis the year of curved displays and surface-projected touchscreens. Who knows what else?
via:
Engadget