Lenovo to ship BlueStacks on PCs this Spring
6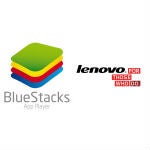 BlueStacks, which allows you to run Android apps on your PC or Mac, is freely available for download, but Lenovo wants to make sure more people use the product. With that in mind, Lenovo has partnered with BlueStacks, and will begin shipping the software on its Windows PCs and tablet hybrids beginning in the Spring.
We've talked about
BlueStacks
before, and we know there are quite a few out there who are pretty excited about it. The basic idea is that you can run Android apps on your PC or Mac. Until now, it's been a good way to use Android apps as widgets on your desktop, but with this new partnership, it could add quite a bit to Windows 8 tablets. Windows 8 has
legacy
support with all Windows apps, so it doesn't necessarily need access to more apps, like Windows RT or Windows Phone would. But, access to Android's
800,000 apps
(at last estimation) is still a pretty nice feature.
Bluestacks had been talking about bringing its
software to Windows RT
, but we think that's unlikely since Microsoft would have to approve it in the Windows Store. But, with this new partnership, we could see the Lenovo Yoga laptop/tablet hybrid shipping with BlueStacks around April. Lenovo even said that it is planning to make the software free for users.