BlueStacks may bring Android apps to Windows RT, but we doubt it
6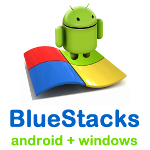 BlueStacks is a pretty cool app that we've been hearing about for a while, and it sounds like the development team has its eyes set on a new market: Windows tablets. Right now, BlueStacks allows users to run Android apps in MacOS (in alpha) and Windows (in beta), but it could be coming to Windows RT next year.
The info comes from a comment in the BlueStacks support forum where BlueStacks employee Deepak Sharma said that the team is "considering offering BlueStacks for Windows R/T (sic) next year." If this works out, it would allow users to run any of the 700,000 Android apps on a Windows RT tablet.
But, that's a very big if. Given the restrictions that Microsoft has placed on Windows RT apps, it seems
highly unlikely
that a BlueStacks app would be allowed on Windows RT. Of course, Windows 8 for tablets is expected to launch in January, so at least BlueStacks will already be available for use on those tablets through the legacy support.