Lenovo debuts 3 new Android tablets
4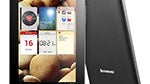 It's IFA time again, and everyone wants to introduce their latest and greatest. Lenovo is doubling down on the Android tablet ecosystem, introducing a trio of tablets that come in different sizes and, we imagine, different price points. All three will rock Android 4.0 (Ice Cream Sandwich) out of the box, and would hopefully get an update to Jelly Bean in the not-so-distant future.
The Ideatab S2110A is their top tier tablet and is being billed as a "premium entertainment device"
and features a 10" IPS display that supports 10-point multi-touch for gaming and a 178 degree viewing angle (great for two-person games). It has an SD reader, USB ports (maybe for gaming peripherals?) and a micro HDMI port so you can stream your HD video and games to a TV. The usual mediocre front and rear shooters are present, and there's a detachable keyboard that contains a second batter. According to Lenovo when both batteries are charged the tablet/keyboard combo can see an impressive 20 hours of juice. It will be available in Wi-Fi versions only.
Moving down a size slot is the Lenovo Ideatab S2109A, which sports a 9" screen
with a 1280 x 800 resolution. Inside it's powered by the now-common Tegra 3 chipset from Nvidia, and has even lower resolution cameras than seen on its bigger brother. There are still USB and MicroSD card slots, and GPS in case you want to take it on the road.
Finally,
Lenovo wants to get in to the lower-cost smaller tablet market exemplified by the Nexus 7 and the Kindle Fire, so they are introducing the Ideatab S2107A, a 7" tablet with 720p resolution.
No word was provided on its innards, but given the heavy use of Tegra 3 chips in budget tablets we think it's a good bet that's what will be on the inside of Lenovo's pint-sized tablet. It does come with a microSD card slot, so for those of you who skipped the Nexus 7 due to a lack of expandable storage, this may be a device worth looking at. It also has a build in FM radio tuner, and there will be options that support 3G connectivity, so they may be a device you can place on your families shared data plan, if that's the sort of thing you are looking for. Battery life is rated at a very respectable 10 hours.
No word on pricing or availability yet, but Lenovo promises that information will be revealed "later this year."
source:
Pocket-Lint
Recommended Stories