Lenovo S850 hands-on: mid-range fashion icon
3
Lenovo has unveiled a trio of new Android smartphones at MWC, and the Lenovo S850 sits right in the middle of these offerings. The handset is made for those who value a good camera, color and looks, as it packs a 13-megapixel rear shooter and a 5-megapixel front camera, comes with a glass exterior and a variety of colors to choose from. It is also very thin (0.32") and lightweight, a true fashionista.
The Lenovo S850 sports a 5-inch 720 x 1280-
pixel
IPS display, and apart from the slightly smaller display and different looks, it's very similar to the flagship S860. Let's take a look at what it's all about.
Design

Bling-bling! The Lenovo S850 is a stylish device with high-quality materials and good feel - a surprise given its affordable price. Made for the fashionistas, some ladies (hey, and maybe some men) and just people who'd appreciate its pink or white (you have two color options) glass body, the S850 features that glossy back, but the glass underneath gives it a more funky, modern look.
Display
The Lenovo S850 features a 5-inch 720 x 1280-pixel IPS display, and while the detail is not super sharp, it's still decent and the screen rocks decent viewing angles. At first sight, the screen seemed a bit too dim for our taste, and colors appear a bit subdued, but that's just our first impression and we'll definitely test this in more detail later on.
All in all, the all glass exterior, the bold white and pink color options, those are the things that make the Lenovo S850 stand out in the design department.
Interface and functionality
Android
4.2
Jelly Bean is on board the Lenovo S850, which is a bit disappointing given that most devices at MWC come with 4.4 KitKat on board. Still, we're talking about an affordable device here and after all we ought to admit that the difference from 4.2 to 4.4 is not all that drastic.
What matters more here is the custom Lenovo skin on top of Android. It's unlike most skins we have seen in that it overhauls the stock Android experience replacing the home panel with an app drawer. That's right you just have all your apps straight on the home panel, like on an iPhone actually. Luckily, the S850 runs on Android, so you can easily change most of this via a custom launcher.
Processor and memory
Just like the Lenovo S860, the S850 features a 1.3GHz quad-core MediaTek MT6582 chip. It's slightly less powerful packing only 1GB of RAM, but really the difference between the two is mostly in outwards appearance.
In real-world usage, the common apps and the Android interface ran nearly perfectly smoothly without any noticeable slowdowns, and that's great. More demanding games would make the chip sweat, but with a slight lag, it should be able to run them. The handset ships with Mali 400 graphics.
Internal storage is set at 16GB and that all glass design has taken a toll in that you don't have a microSD card memory expansion slot.
Camera
The S850 is a shiny device with an eye-catchy glass body, but what you won't notice immediately is the fact that it packs a pretty high-res 13-megapixel main camera and a 5-megapixel front shooter. The camera is capable of recording videos at a resolution of up to 1080p, and Lenovo stresses the fact that this is a device made for those who like snapping pictures. We're yet to shoot camera samples and judge about the actual image quality, but hopefully we won't be disappointed.
Lenovo S850 hands-on: mid-range fashion icon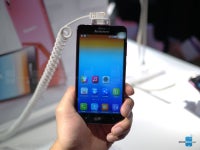 Expectations
The price of the Lenovo S850 is set at just $269 off contract, and that's a huge difference in price from the $349 S860. At that price, the stylish S850 looks like a good value for the money, and we'd recommend it those that like to sport shiny blingy things. What about you, do you like it?