Lenovo Phab 2 Pro - the first phone with Google Tango - is available for purchase today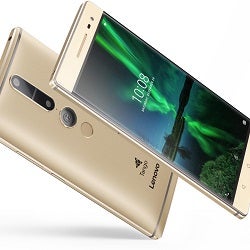 Lenovo sure has had a pretty eventful year. Along with releasing the incredibly unique Yoga Book, the company has also spent a great deal of time kicking out a heap of Moto products. The new Moto Z line that was introduced a few months ago brought Moto Mods to the market and created for the best modular smartphone approach that's currently available to consumers. However, Lenovo is far from done when it comes to releasing innovative and unique gadgets. Today is the day that Lenovo's
Phab 2 Pro
goes up for sale, and it's packing some seriously cool tech.
First of all, let's get some of the big specs out of the way. The Phab 2 Pro is home to a massive 6.4-inch 2560 x 1440 display, Qualcomm Snapdragon 652 processor, 4GB of RAM for speedy multitasking, and 64GB of internal storage to ensure that running out of space is never a concern for you. The phone runs Android 6.0 Marshmallow out of the box, and while those specs are certainly fine on their own right, the real star of the show with the Phab 2 Pro has to do with its camera system. The backside of the Phab 2 Pro features a 16MP camera, and along with having a respectable megapixel count, that camera is the first one on a smartphone that's fully-featured with Google's Tango augmented reality technology.
With the Tango-enabled camera, the Phab 2 Pro is capable of a lot of stuff that you're not going to find on any old smartphone. The Tango platform and the included camera allows the Phab 2 Pro to understand the surroundings that the phone sees through the camera lens, and it can then create a map for itself of the real world that it can then use for a host of various applications. There are currently more than 35 apps in the Google Play Store that can take advantage of the Tango cameras, and while a lot of them are augmented reality games, things like the Lowes Vision application allows you to measure rooms in your home to see how new appliances or furniture would fit in it. There's certainly a lot of room left to grow for Tango as a whole, but the available apps and games are already very promising to what could be a very bright future.
The available apps and games are already very promising to what could be a very bright future.
The Phab 2 Pro is currently available from Lenovo's official website as an unlocked smartphone for the price of $499.99. Current shipping estimates report that it will likely be between four or five weeks before the Phab 2 Pro actually arrives at your doorstep from the date that you buy it, so getting your order placed sooner rather than later is likely going to be your best bet if you want to get your hands on it as soon as possible.