Lenovo CEO confident Microsoft makes strong software, not the best hardware
17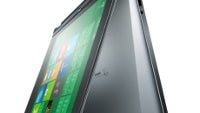 Microsoft's plans to build and bring to market its own series of Surface tablets was a shocking announcement. For users, but mostly for Redmond's own partners, none of which seems to like Microsoft's deicsion. One particular device manufacturer however isn't scared at all - Lenovo.
"Although we don't like Microsoft providing hardware, for us, it just adds one more competitor. [They're] just one of our many competitors. We are still confident that we are providing much better hardware than our competitors including Microsoft,"
Lenovo chief executive Yang Yuanqing said at a confernec call.
"They are strong in software, but [we] don't believe they can provide the best hardware in the world. Lenovo can,"
the Lenovo head added.
Now, we like the confidence Yang expresses in both Lenovo and the Windows 8 platform, but it's hard to overlook the criticism towards Microsoft here.
Acer's chief executive earlier was quite frank:
"We have said [to Microsoft] think it over. Think twice. It will create a huge negative impact for the ecosystem and other brands may take a negative reaction. It is not something you are good at so please think twice."


source:
CNET
Recommended Stories