Legere says Dish Network "could be a great opportunity" for T-Mobile
2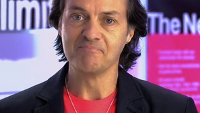 T-Mobile CEO John Legere, speaking at T-Mobile's conference call on Thursday
following the release of its fourth quarter and 2014 financial results
, said that working with Dish Network could be a "great opportunity" for his company. Why? Dish happens to be loaded with spectrum. CEO Charles Ergen sorely wants his satellite television content provider to offer wireless service.
While there are many different things that Dish can do with its spectrum, Legere says that whichever direction Ergen goes, it will be positive for T-Mobile. If Dish goes it alone, it is a new challenger to Verizon and AT&T. If they partner up with a current operator, it makes that company stronger.
Prior to the AWS-3 auction, Dish owned 40MHz of AWS-4 and 10MHz of 1900MHz H Block spectrum. In the auctioned, Dish and its partners won 25MHz of addiional air waves, including 13MHz of paired spectrum.
"I look at the spectrum portfolio and the video content, etc. that Dish [has] as a fascinating idea to consider. Dish is a great opportunity for both the country and perhaps T-Mobile."-John Legere, CEO, T-Mobile
Back in September, there was talk that
Dish was preparing a bid to purchase T-Mobile
. While nothing has surfaced yet, Dish has gone after a major carrier before. That time,
Dish bid $25.5 billion to buy all of Sprint
.
SoftBank ended up buying 78% of Sprint
for $21.6 billion.
source:
FierceWireless